Renewable Energy Margins Shrinking Globally, Balancing Diversification, Growth and Risk the New Norm for Investors
Mercatus releases in-depth analysis of more than $400B of aggregated assets and investments across renewable energy, storage and electric vehicle sectors in 100+ countries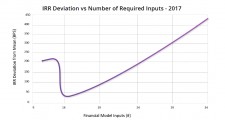 SAN FRANCISCO, CA– For Real Asset investment managers, one key trend has become abundantly clear: accelerated growth in assets under management has created a need for balancing diversity and risk at scale, according to new research from Mercatus, a leading asset and investment management platform for the energy industry. With investments in renewable energy expected to top $7 trillion by 2040 (according to Bloomberg New Energy Outlook 2017), the industry is evolving quickly, with emerging markets becoming a competitive force with North America and Europe.
The New Data Imperative
In our fifth year of releasing this analysis, it's clear that the energy sector has grown up, with volatility as a core component of its DNA," said Haresh Patel, CEO of Mercatus. "But even with shrinking margins and the threat of commoditization, there is incredible untapped opportunity for both developers and investors around the world. We could not be more bullish about this sector, about the learnings from this new report and how we can help impact the future growth of this dynamic market" said Melanie Flanigan, VP of Digital Marketing.
One of the key findings in this year's report, given the precipitous downward trend of prices and profits, is investment managers' greater interest and focus on redesigning and managing financing, forecasting and risk models against a backdrop of many themes:
the complexity of models has significantly increased
variability of model best practices are widespread
large deviations of inputs are required in models by investors to assess and measure profitability, risk, and performance
centrally controlled financial models are fast becoming a trend vs. "the old legacy way" of local analysts singularly managing tasks asset-by-asset
These themes are important because strategic decisions are heavily based on the performance measured from these asset and portfolio-based models. Combined with future forecasts, risk indicators, and valuations – this is the heartbeat of future success for investment managers. Trust and insight in the underlying data is imperative. Those investment managers able to harness and centralize data collection, modeling, and reporting as the underlying complexity increases will have a significant advantage for optimizing returns.
Other Key Report Findings
According to Mercatus' new data report:
Nearly 70% of investors expect to manage assets across three or more classes and three or more regions, with the mix growing for large-scale hydro, wind, biomass, and energy storage projects by 2020.
Projects under development in the Mercatus platform show industry-wide Power Purchase Agreement (PPA) prices will continue to decline for wind and solar projects over the next 3 years, which will directly impact revenue forecasts and project returns.
Federal and state subsidies for renewables will drive project development in North America through 2019, but an overwhelming number of new projects – lead by solar and wind – will be coming online in Africa in 2020 and 2021.
The introduction of panel tariffs by the current Administration may cause the US market to fall from 10th to 19th place in most attractive solar markets ranked by project Internal Rate of Return (IRR).
About the Mercatus Global Energy Insights Report
The Mercatus Global Energy Insights Report is compiled annually to provide both developers and investors with key insights into emerging trends in the global energy market. It is based on data consolidated from over 210 GW of energy projects in 100+ countries across $400B assets and investments under management within Mercatus' Investment Lifecycle Management (ILM) platform. The data for the current report is as of year-end 2017.
Download the Report
The Mercatus 2018 Global Energy Insights Report is available for download here(https://goo.gl/Gw2sB1). You can also hear the research highlights presented, and ask questions, by attending the Mercatus Insights "Inside Look" Webinar on Tuesday, July 10 at 9:00 am PST. Register for the webinar here (https://goo.gl/sZFgLc).
About Mercatus
Mercatus is the global leader in investment and data management solutions for investors in infrastructure and energy, real estate, and private equity. Using Mercatus helps investment managers attract, deploy, and manage capital more effectively across the entire investment lifecycle. Mercatus' SaaS platform systematically consolidates asset and portfolio data, automates financial analysis, and streamlines decisions and insights across multiple asset classes. Today, Mercatus processes over $450B in managed assets across 110 countries and 11 energy generation, efficiency, and storage technologies. Mercatus is headquartered in Silicon Valley with offices in Europe and India. For more information visit www.gomercatus.com.